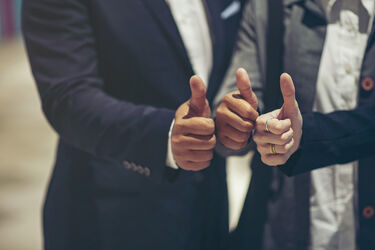 Raise your further training to a new level
Benefit from our German Technical Inspection Agency (TÜV) certified training sessions and award-winning eLearning products.
State of the art – awarded by the eLearning Journal
2019 eLearning Award
PROAKTIV has won the 2019 eLearning Award in the sales training category. This is awarded each year by the eLearning Journal. It primarily considers the question of what characterizes and distinguishes successful eLearning. The newly developed concept from PROAKTIV on digital sales training proved convincing to the expert jury: From its didactic structure to the diverse use of digital media in it through the long-term effectiveness of the training for the participants. By way of example, the learning modules can be integrated very easily into everyday working life through the use of micro-learning and

the participants have a personal online coach available to them on a one-to-one basis.The award shows:

PROAKTIV has achieved the jump from being a premium provider of face-to-face training to becoming a provider of excellence in digital training. The awarding of the prize is being held at didacta The Education Trade Fair.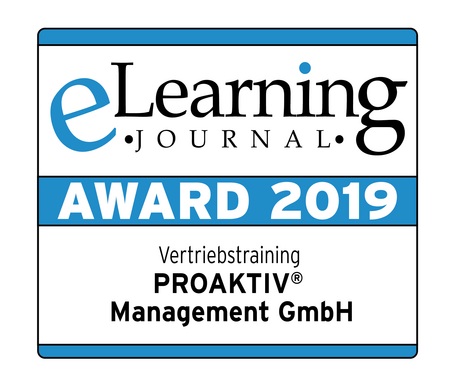 Quality management with a system
ISO certified
Our company is certified in accordance with the German standard DIN ISO 29990:2010. This internationally recognized standard represents a new level of quality for providers of training and education. To achieve this, we undergo extensive audits each year conducted by the TÜV Süd German Technical Inspection Agency. Doing so, our internal processes and the complete organization is scrutinized – with the aim of improving the quality of the products and services we   offer even more.

ISO 99% maturity level. During last year's TÜV audit, we increased the maturity level of our quality management from 98.5% to 99%. This external verification of our especially high quality is reflected in the advice provided by us, as well as in our in-house and open training sessions.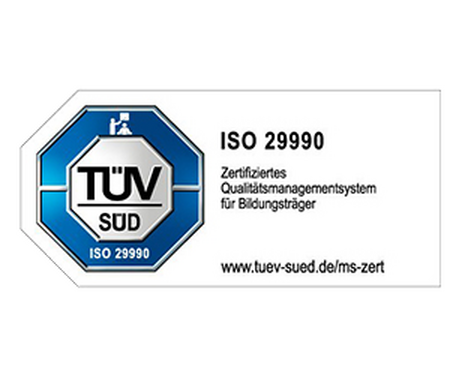 Your premium partner for professional further and advanced training