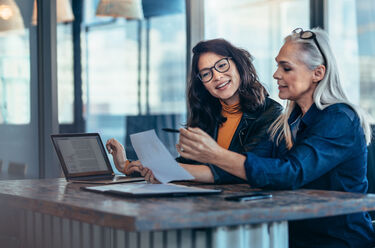 Personalised Coaching for Success
Interactive, practical, with measurable results
You work in management or sales and there is a subject or topic you want to master so as to develop yourself in a targeted manner
PROAKTIV Performance Coaching is the perfect solution for you. It combines personal online coaching sessions with an interactive online module of your choice on a subject you wish to take, together with practical tasks to directly implement the knowledge gained. While doing so you are accompanied and supported by one of our coaches. Your receive expert input within a very short time span and personal coaching at the same time, and gain confidence in handling and working with the new methods and techniques
Which benefits does Performance Coaching offer you?
How you benefit
Fast learning success
You receive input quickly on your preferred subject and can start to implement it immediately.
Practical
Your case studies and work situations are the focus of the coaching. Together with your coach, you work on the subjects that concern you.
Individualised
You and the topics of concern to you represent the sole coaching aim. Together with your coach, you reflect on their implementation and receive valuable tips.
How is Performance Coaching taught exactly?
PROAKTIV Performance Coaching works as follows
Step 1: personal online coaching: 30 minutes
The coach clarifies your coaching requirements with you, as well as your individual situation and specific wishes. While doing so, they recommend an online module to you that matches your coaching preference on a specialist or expertise level.
Step 2: interactive online module: 2 hours
You acquire knowledge in a targeted manner on the subjects and methods of relevance for you. While doing so, you gain confidence and already complete your first tasks. The learning units or modules are short and concise. Permitting you to pause your learning at any time and continue later on.
Your success: a motivational result
You acquire confidence in your actions and implement new methods and techniques. Furthermore, you also gain motivation for new plans and projects, and further your personal development.
Let yourself be inspired by our selection of topics
Select your key subjects and topics
Performance Coaching has never been so customer-specific, compact and easy to access. Avail of this opportunity to further your personal development and experience the successes you achieve with your new working methods and approaches. And remember that success is fun.
Which management competencies do you want to develop and expand?
Leadership subjects – a selection
"Get out of that pigeonhole"– Developing tomorrow's employees
Getting yourself fit for change
Providing effective and constructive feedback

In both our private and working lives: change is the new status quo. With continuous and individual development being the response to this. How do you see your role as a manager and leader in this situation? Do you know what moves your employees? What their competencies and development points are? Now is the time for you to get moving, focus on the future, and develop and advance your team.

Processes, communications options and working methods are constantly changing in this digital era, and that at a very high pace. For this reason it has become critical to be able to adapt yourself quickly to differing circumstances and remain flexible. In the coaching sessions, you reflect on your mind set and attitude to changes. You analyze which obstacles are standing in your path, and you become able to face and manage change positively.

Everyone gives feedback, several times a day even in some cases. How often do you reflect on the way and manner in which you do so? Are you aware at all of how you impact on others? How do you provide feedback to others so that it is effective and constructive? You are coached in exactly these areas in this leadership subject.

Online modules

100% flexibility, interactive learning modules with numerous video sequences, concrete practice situations, practical tasks with worksheets, checklists and summaries. 1 year of access to all of the online content.

1 module
1 module
1 module

Personal coaching

(online)

Virtual individual coaching sessions each lasting 15 minutes by video conference, practice your performance one-to-one with your trainer, personal practice situations, flexibly bookable via our learning platform.

1 hour
1 hour
1 hour

Learning platform

You find your online modules and your learning progress here. You can log in at all times and also book your personal coaching sessions (online). You have 1 year of access to your content.

Zugriff für 3 Monate
Zugriff für 3 Monate
Zugriff für 3 Monate

Languages available

Further languages on request for in-house training.

Deutsch / Englisch
Deutsch / Englisch
Deutsch / Englisch
Which sales competencies do you want to develop and expand?
Sales subjects – a selection
Closing sales successfully together with the customer (B2B)
Mastering new customer acquisitions and initial contacts successfully (B2B)
From the customer's no to their yes to the product – mastering obstacles successfully (B2C)

You have mastered all of the steps up to the product or service offer stage together with your customer. All that is missing is their signature... Closing a sale represents a critical moment in which you do not want to press the client any further, yet would not like to lose them either. In this module you discover methods for the correct approach in such situations, and train how to manage and deal with obstacles. Then you put the knowledge you gain into correct use and are ready to support and accompany your customers in closing sales successfully.

How well do you know your products, solutions and services exactly? Do you know which needs your customers have? And which role does your own attitude play in the communications? In Performance Coaching, you discover how you can have a positive influence on new customers with your knowledge and your impact, and how to avoid stumbling blocks with initial contacts. Be prepared and ready for success.

During sales meetings, the customers may not agree with everything you say or suggest, and react by providing differing objections. The question is: How do you respond to these reactions? Learn, in a targeted manner, how to professionally transform the various objections from customers into a positive atmosphere that leads to a sale. Experience the impact yourself in practice and gain those special moments of success.

Online modules

100% flexibility, interactive learning modules with numerous video sequences, concrete practice situations, practical tasks with worksheets, checklists and summaries. 1 year of access to all of the online content.

1 module
1 module
1 module

Personal coaching

(online)

Virtual individual coaching sessions each lasting 15 minutes by video conference, practice your performance one-to-one with your trainer, personal practice situations, flexibly bookable via our learning platform.

1 hour
1 hour
1 hour

Learning platform

You find your online modules and your learning progress here. You can log in at all times and also book your personal coaching sessions (online). You have 1 year of access to your content.

Zugriff für 3 Monate
Zugriff für 3 Monate
Zugriff für 3 Monate

Languages available

Further languages on request for in-house training.

Deutsch / Englisch
Deutsch / Englisch
Deutsch / Englisch